Riyadh – The Saudi Electricity Company (SEC) employees have donated SAR 4,230,000 charities to support over 34 humanity projects throughout the Kingdom in the year 2018.
The drive was a part of Saudi Arabia's social responsibility towards humanity.
According to Sabq news, the charities are directed towards supporting the special associations for Quran memorization, health awareness, orphan care, women's development, community welfare programs, and many other areas.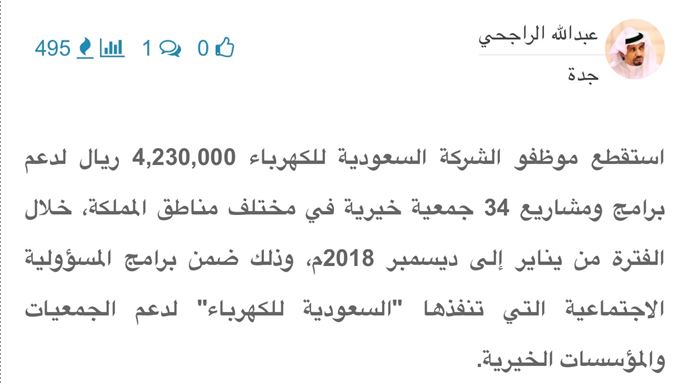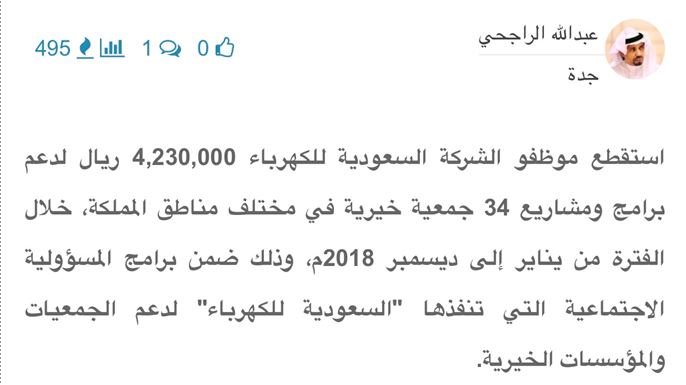 Jamia Khairukum Li-Tahfeezal-Quran – a Quran memorization institute in Jeddah has been the first of the associations to get benefited from these donations.
The Zamzam Health and Volunteer Society in Jeddah was the second in place, while Orphans Care Society in Asir region came third.
Enterprise and Resource Planning (ERP) department of SEC was involved in designing the electronic charity process using SAP technology.
The Employee Charity program of the SEC is one of the major social responsibility programs that helps and urges its employees to take part in charities and donations for their spiritual satisfaction and to seek God's pleasure in the after-life.