Just 300 SAR for One Year Multiple Saudi Visit Visa as Kingdom restructures Visa fees
Riyadh – Saudi Multiple Visit Visa for One year will now cost only 300 SAR, also Transit Visa, Single Visit Visa, Hajj and Umrah Visas will cost the same, Saudi Council of Ministers announced on Wednesday.
According to an Infograph published by Saudi Gazette, Visit visa for the purpose of Umrah, Tourism, Business or visiting friends and relatives or other purposes will cost only 300 SAR. The validity of stay of Single Entry visa would be 30 days, while for Multiple Entry Visa it is 90 days which is close to three months.
While Transit Visa will be for 96 hours that is close to Four days.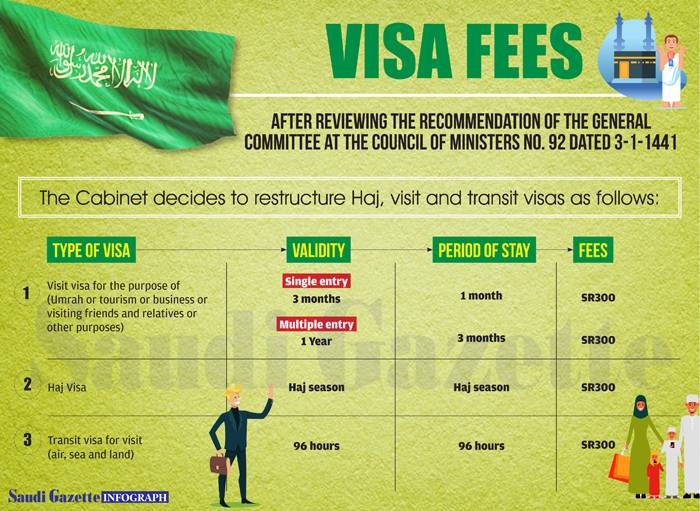 Minister of Hajj and Umrah Mohammed Saleh bin Taher Benten thanked King Salman and Crown Prince Mohammed bin Salman on the occasion of the issuance of the royal decree in this regard.
The expatriates residing in the Kingdom expressed joy over the decision which will ease inviting their families and dear ones to the Kingdom.
Saudi Government is working diligently to promote Tourism and to attract foreign investments in order to accomplish Vision-2030.