Riyadh – Ramayan and Mahabharata studies have not been introduced in Saudi Arabia's national curriculum as of now, Saudi journalists and intellectuals clarified after some of the unverified reports surfaced in the Indian media.
On April 18, India's East Coast Daily newspaper initially claimed that according to Saudi Arabia's new Vision-2030, Hindu religious texts from Ramayana and Mahabharata have been introduced in Kingdom's new curriculum for students to study.
The media agency quoted Saudi national Nouf Almarwaai's tweet where she shared screen-shots of her son's online-exam, and claimed, "Saudi Arabia's new #vision2030 & curriculum will help to create coexistent,moderate & tolerant generation. Screenshots of my sons school exam today in Social Studies included concepts & history of Hinduism,Buddhism,Ramayana, Karma, Mahabharata &Dharma. I enjoyed helping him study".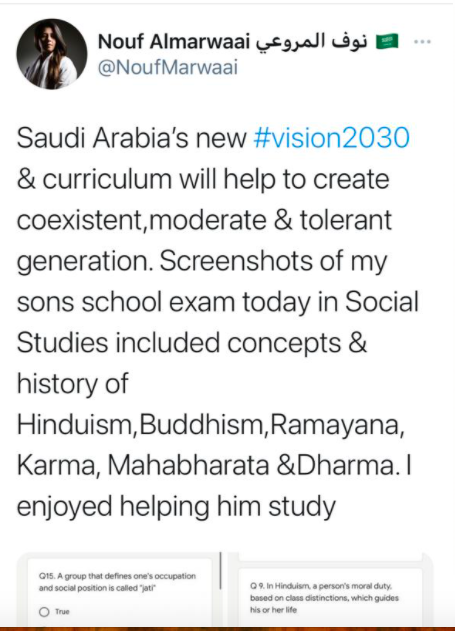 The tweet received overwhelming response from the India's Hindu diaspora, who applauded her, and Saudi Arabia's new vision 2030.
Indian media channels celebrated the claim and announced that Saudi Arabia has introduced Hindu religious texts in their national school curriculum. The news does not refer to any official source from Saudi Education Ministry or Saudi Media Ministry.
The report was later clarified by the Saudis, that they respect and honor the Indian culture, but no such decision has taken place as of now where Kingdom's national school curriculum has been amended.
Saudi Arabia's famous columnist Ibraheem Al-Sulaiman tweeted, "Professor Nouf, I agree with you regarding the freedom of education for the communities in their private international schools, which are restricted to the members of their community or those who belong to their community, and this matter is not new, as it has been applied within specific frameworks and curricula of their own since its establishment, and it cannot be mixed with the Saudi curricula for private and local public education".
Saudi professor Omar Al-Sabiyee said that he has been teaching for the past 25 years, and all the subjects are taught in Arabic language only. Saudi school curriculum does not include social studies in English language, hence he stated that the questions belong to the Indian school.
"I have been teaching for 25 years… the system in public education prohibits placing questions in English except for English language subjects only … these questions maybe for Indian schools", Omar tweeted.
Independent Saudi Political Analyst Omar Al-Ghamdi tweeted while addressing Almarwaai, "Your son is studying in an International Indian School in #SaudiArabia due to your family relations. These schools have been using the same cuuriculum for years before #Vision2030, so It's a big lie to link foriegn curriculum we respect to our vision".
Saudi Business woman Najwa AlTuwaijri tweeted, "We all respect religions, but you lied and said that this is a curriculum in Saudi schools that is taught while it is a curriculum for private schools for the Indian community in Saudi Arabia! I do not know what is the purpose of linking the vision with your lie!"
Omar Al-Ghamdi also tweeted while tagging Saudi Media Ministry, "This tweet was echoed widely in the Indian media and society of all sects and conveyed a wrong image about education in Saudi Arabia. The Indian media published articles in this regard without referring to the Saudi Ministries of Education and Information".
Riyadh-based Dental Specialist Dr. Sameena Khan investigated the social studies curriculum and said, "the text of the whole curriculum is in the Arabic language and there was no mention of the Mahabharata or the Ramayana in the entire social studies text book. It is unclear as to what motivated the said twitter user to propagate this".
Dr. Khan also shared the PDF document of the social studies book of the Kingdom's public curriculum, which has no new introduction of foreign studies.
Eventually, Almarwaai sincerely clarified that her previous tweet was about Saudi Arabia's international curriculum not the national curriculum, and it does not necessarily mean it teaches Hindu religion to the students, while it's all about informing the students about India and the great Indian civilization.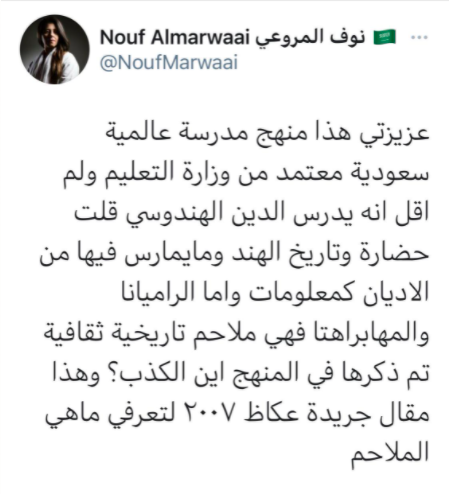 She tweeted, "My dear, this is a Saudi international school curriculum approved by the Ministry of Education, and I did not say that it teaches the Hindu religion. I said the civilization and history of India and what religions are practiced in it as information. As for the Ramyana and the Mahabharat, they are cultural historical epics that were mentioned in the curriculum".
"Saudi Arabia's Ministry of Education has always supervised and approved curriculums of private and international schools. General knowledge about mythologies and epics like the Iliad and Odyssey of Homer (Greek mythology) or the Mahabharata and Ramayana (Indian mythology) has been taught in international and private schools for decades and no new changes to this effect have been made in line with Vision 2030 as claimed by Nouf", Dr. Khan said. "Also, the actual texts of these epics (either in their original languages or translations) are not approved by the Ministry and are not taught in any schools. Teaching 'about' something and actually teaching something are entirely different things".
Moreover, the news is not reported by India's official media agencies like Asian News International (ANI) and Press Trust of India (PTI), nor by Saudi Arabia's Saudi Press Agency (SPA) and Okaz. Since the news is carried out by independent media units and individuals, there's no official clarification from the Saudi authorities.
Urdu translation of this report.