India's AMU Alumni Association in Riyadh pays tribute to Sir Syed Ahmed Khan
3
mins read
Riyadh – Aligarh Muslim University Alumni Association in Riyadh (AMUAA-R) paid tribute to Sir Syed Ahmad Khan with a heartwarming 'Kheraj-e-Aqeedat' program.
Sir Syed Ahmed Khan was the educationist, social reformer, visionary and founder of the Aligarh Muslim University, India. Every year Sir Syed Day is celebrated in Aligarh Muslim University and throughout the globe by its alumni on a large scale to remember the contribution of the great leader.
However, unlike the previous years, a small gathering of about 50 people was organized this year due to the COVID-19 pandemic and social distancing protocol.
Chief Guest Asim Anwar, Second Secretary, Embassy of India, Riyadh, and Observer to the International Indian Schools in the Kingdom graced the program with his presence.
He expressed his views on the philosophy of Sir Syed Ahmed Khan for the upliftment in the education sector. The envoy also spoke on the importance of education and the structured measures that the Indian mission is taking to support and expand the education system in Saudi Arabia.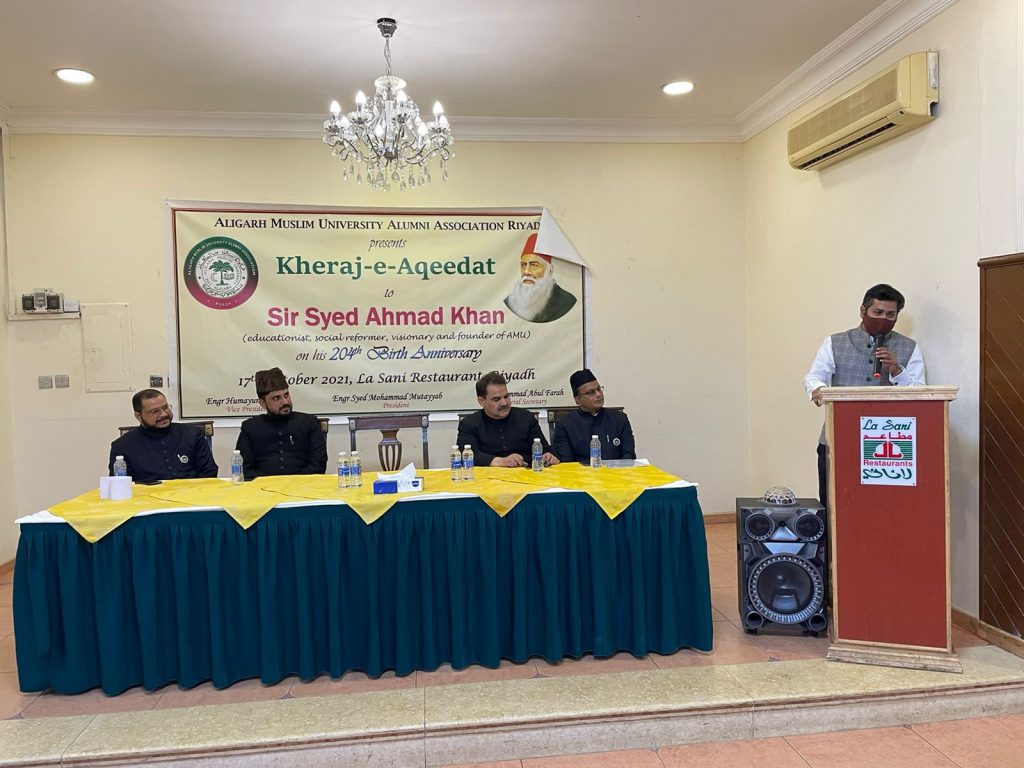 The program began with the welcoming of guests by AMUAA General Secretary, Dr. Mohammad Abul Farah followed by the recitation of the verses from the Holy Quran by Mansoor Hasan in great devotion.
President of AMUAA, Riyadh Engr. Syed Mohammed Mutayyab, in his address emphasized the key contributions of Sir Syed Ahmad Khan and expressed his dedication to work hard for the advancement of society through education.
He said, "AMU alumni association annually organises various competitions for students to familiarise children with the life and contribution of Sir Syed and provide them a platform to discuss issues important to the community and nation".
Like every year, an online speech competition was organized by AMUAA Riyadh, held on 15th October 2021 for students of grades 9th to 12th residing in GCC countries. The topic of the speech competition was 'Relevance of Sir Syed's Vision in Contemporary India'.
First prize winner was Ishba Arshad, 12th grade student from Indian International School Dammam. She received a cash prize of 700 SAR. While Sayyada Khansa Mahiya, 11th grade student from IIS Riyadh, bagged the second prize.
A joint third prize went to Hashmath Ayesha Syed, 12th grade student from Delhi Public School Riyadh, and Arsia Reyaz, 9th grade student from IIS Riyadh. The girls left the audience speechless as they delivered their winning speech on stage. They also received a cash prize of 500 SAR and 300 SAR, respectively.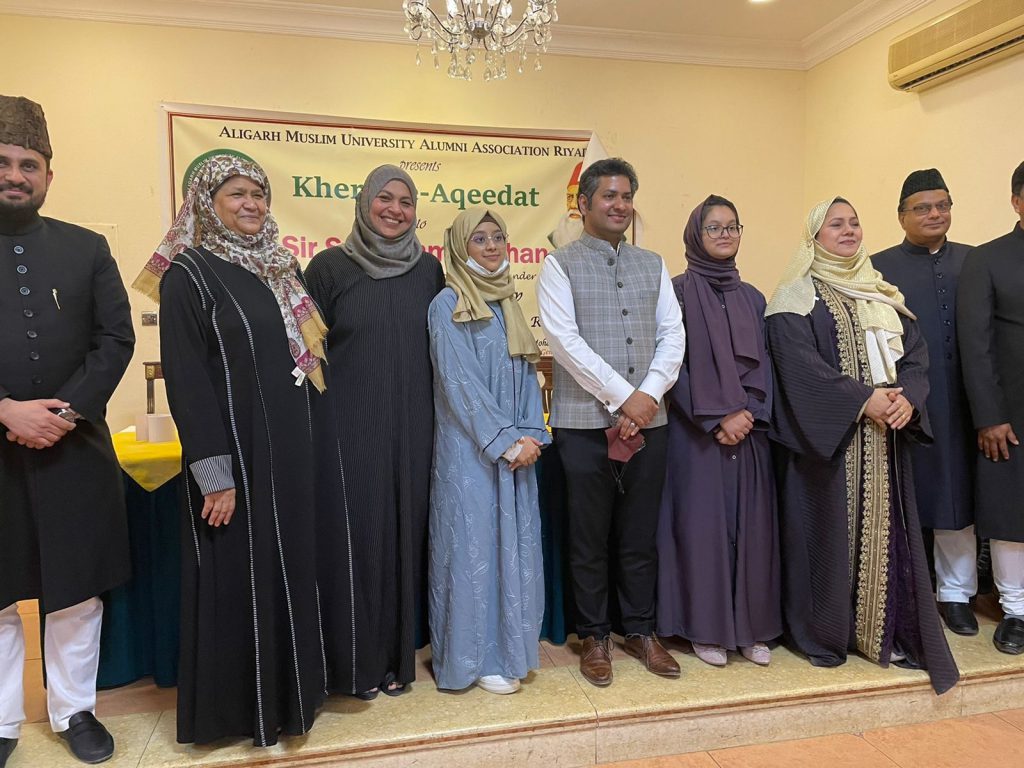 A total of 255 participants registered for the speech competition from which 56 were screened in the first round and 24 participants were selected for the final of the speech competition.
Representatives of various organizations in Riyadh shared their views about the extraordinary contribution of Sir Syed Ahmed Khan towards the betterment of the Muslim community.
Many prominent Aligs including representatives of various organizations in Riyadh were present at the event.
Dr. Khursheed Anwar – Saudi Indian Health Forum, Dr. Dilshad Ahmad – Indian Education Forum, Abid Hussain – Bihar Anjuman, Engr. Owais Ahmed – Saudi India Business Network, Engr. Farhan Ahmed – Indian Engineers Forum, Shahzeen Eram – Global Jharkhand Welfare Association, Aftab Ahmed Sr. Alig, Prof. Anwar Khursheed – King Saud University, spoke on occasion.
They emphasized that education is the need of the hour for Indian Muslims as they remain backward on a lot of social and economic indicators even today.
Dr. Anwar Khursheed said, "In every decade, the Muslim community should give birth to a great leader like Sir Syed Ahmad Khan. That is the need of the hour".
Shahzeen Eram, a prominent journalist, and Founder- President of Global Jharkhand Welfare Association, Saudi Arabia shared that, "Sir Syed played a very constructive role in shaping the future of women in India and was the torchbearer in leading way for woman empowerment through providing education opportunities for enlightened generations to come. Women empowerment was a large part of Sir Syed's vision".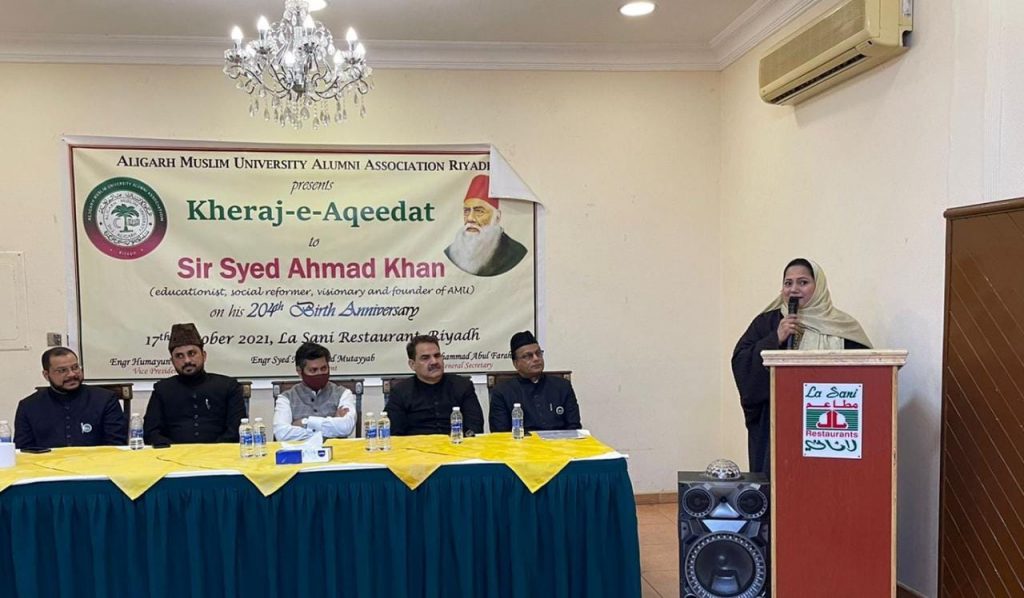 The program concluded with prayers for Sir Syed, followed by a vote of thanks by AMUAA Vice President Engr. Humayun Hashmi who appreciated the support of all for attending the event. AMU Tarana and Indian National Anthem was sung by the attendees which was followed by high tea.