Protests Harmful, Negotiations Helpful: All India Muslim Personal Law Board on Hijab Row
New Delhi — As Hijab protests have taken an ugly turn in India, All India Muslim Personal Law Board (AIMPLB) issued a statement on Thursday, expressing that negotiations and legal procedures are helpful in resolving the controversy instead of protests and demonstrations.
General Secretary of AIMPLB Moulana Khalid Saifullah Rehmani issued a statement, which mentions, "The issue of women's hijab got ignited like a spark from a town in Karnataka, and soon it spread to the rest of the country. Now the situation is very critical. Perhaps, on the other hand, extremist groups have made it a topic to incite hatred against Muslims, and young students are affected by it".
"In such a situation, a special meeting of the Legal Committee of the Board and some members of the executive was held, in which it was decided that the issue should be resolved through legal procedures and negotiations instead of bringing it on the road", it added.
It further stated that the board has decided that a legal battle will be fought in the High Court, either by those who have already become parties, to pursue the case together with them, or the Board will become a direct party.
Currently, the board is in constant touch with the lawyers who are presenting the views of the Muslims in the Karnataka High Court.
"If the issue is not solved in Karnataka High Court, Supreme Court will be approached", the statement said.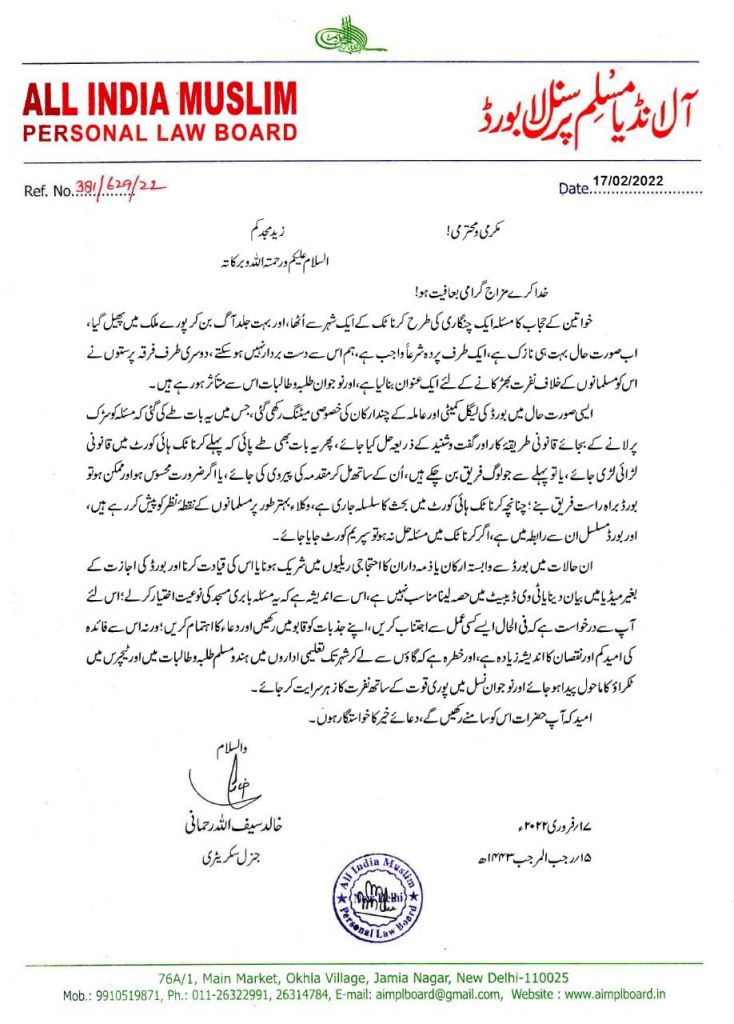 During the course of events, board has strictly instructed its members and volunteers to refrain from participating and leading the protest rallies, and to stay cautious before making any statement in the media and TV debates without the permission of the board.
Moulana Rehmani expressed his concerns that, the issue may take the shape of Babri Mosque dispute which led to communal riots and civil unrest.
"I request you to refrain from any such act for the time being. Control your emotions and make Dua (prayers)", he said. "Otherwise, there is a chance of loss compared to the benefit. There is a danger of confrontation between Hindu-Muslim students and teachers in educational institutions in every village and town".
Meanwhile, the extremist Islamist organization Popular Front Of India (PFI) held a "unity" march in Rajasthan on Thursday. Its General Secretary Anis Ahmed threatened the Indian administration that PFI will take out protest rallies throughout India till 15th August 2022. However, majority of the Muslim groups and organizations have not come out to express support toward PFI's radical intent.